Quad Bike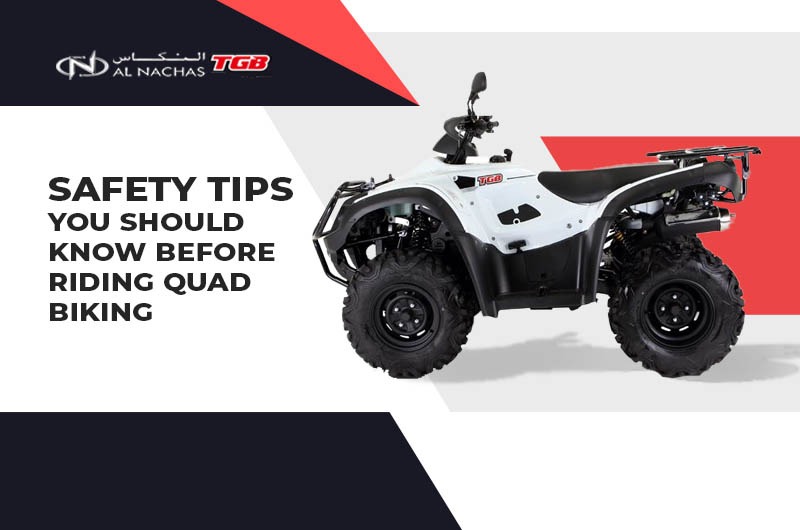 Safety Tips You Should Know Before Riding Quad Biking
Quad biking is one of the most thrilling outdoor adventures you can have particularly when you are in UAE. It's a fantastic way to get out into nature, enjoy some fresh air and make some unforgettable memories.
But before you head out on your first or whichever quad-bike ride, there are a few safety tips for riding quad biking that every rider should know about. Follow these guidelines to ensure that your next outing isn't your last!
Riding Quad Biking Safety Tips
You found quad bikes for sale online and you have bought it and now you are excited to have a ride alone or with your friends. Hold on! Read these safety tips first and then go for a Quad bike ride.
Wear Protective Shoes, Long Pants and Helmet
Be sure to wear protective shoes and long pants before having a ride. The first thing is that as with all vehicles, you should always wear the correct gear. That means wearing safety goggles or glasses (not sunglasses) along with sturdy boots and gloves. If your helmet doesn't have built-in ear protection, we suggest also wearing hearing protection because engine noise tends to be pretty loud.
Furthermore, a face mask may seem like overkill but it will protect from dirt and pollen, and will help prevent dust particles from flying into your nose or mouth while riding. This could prove dangerous so don't forget it!
Make a Checklist
Ensure all of your equipment is secure before riding off. You should also make sure you have enough fuel for the day's ride, as well as extra provisions in case anything goes wrong along the way. It is always a better practice to have a checklist so that you can keep check with the essentials you should have before going out. Likewise, make sure you have a full tank of fuel.
Keep Your Speed Slow
Make sure your speed should not exceed the average limit. This would help you better understand your quad bike and if in case you got confused over the off-road trails, it will be easier for you to manage the bike. Your safety should be your utmost priority so make sure you are not in rush.
Before Going on Adventure with A Friend
Tell your riding buddy where you will be going before heading out on an adventure together. This way they know where to look if something goes wrong or there is some sort of accident. Make sure that both parties agree with who is driving as well!
When it comes down to it, this should not actually matter because neither party knows how the other person drives anyway but people tend to get really territorial over these types of decisions so do yourself a favor and set boundaries beforehand!
Check the Weather Conditions
Be aware of the weather conditions before heading out for an adventure on your Quad bike. For example, if it's raining you will need a different kind of tire than what is best suited for dry or dusty trails.
Look at off-road trails' reports and local forecasts so you know exactly what type of trail course you should go on! Sometimes people get caught up in their excitement about an upcoming trip which makes them forget simple precautions like checking the weather report beforehand.
This might not sound too important but believe us when we say that having wet sticky clay stuck all over yourself because it has been raining outside is no fun at all!
Safety for Children while Riding Quad Bikes
In the U.A.E., quad bikes are often used by kids and adults alike to have fun outside, whether it's racing each other or just riding around a field on a sunny day. However, this pastime can be dangerous if not practiced carefully – particularly when you add young children into the mix!
So here is some information regarding safety with regards to your child at play so that they don't get hurt. When buying a quad bike for your kid, always buy one which has been designed specifically for them rather than modifying an adult-sized model using parts from another motorcycle.
Always make sure there's enough space where they'll be playing to avoid collisions.
Apply 4×2 Rule
It is important to remember that any vehicle, including quad bikes are subject to the rules of the driving. Most importantly, if you have a doubt, doesn't matter how slighter it is, set back and think at least four times before moving forward.
When riding a quad bike it is crucial that you maintain control at all times and be aware of your surroundings. The most common cause for accidents with quads in UAE is speed so try not drive over 30kmph when starting out on an unfamiliar track or path.
However, if you feel confident enough to go faster than this limit then make sure there is nobody around who could potentially get hurt by your driving. Also keep an eye out for potholes as these can be very dangerous too!
Final Words
The last thing you want while out on an exciting new adventure is something going terribly wrong, so be prepared! Make a comprehensive list of everything that needs taking care of beforehand or included with other gear (such as first aid kits) just in case things do go south during your quad biking excursion. This will not only keep you safe but ensure everyone else has fun too!
Conclusively, it's a good idea to take the time and think about all of these safety tips before you head out on your next quad bike adventure. Better safe than sorry, right? Hope you would have find this article helpful. Let us know in the comments below.