Delivery Scooters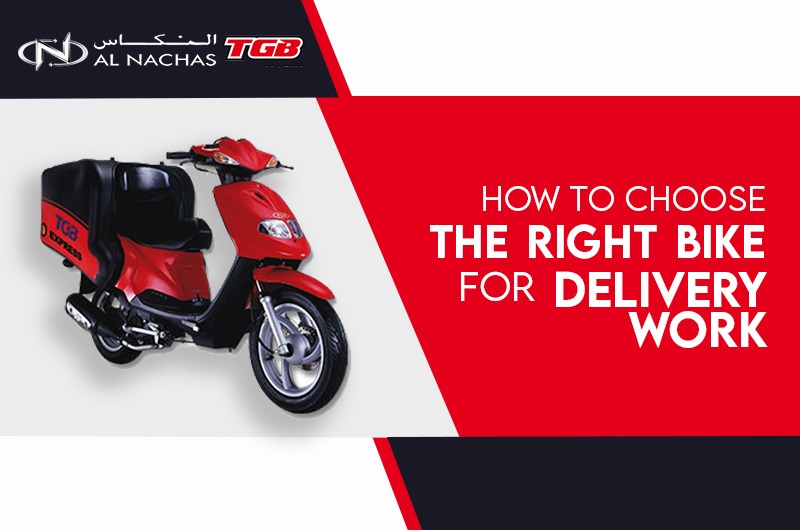 How to Choose the Right Bike for Delivery Work
Delivery work is hard, and biking to your destinations can be an exhausting part of the job. It's important to choose a right bike for delivery work that will get you where you need to go with ease. Read on for tips on how to find the best delivery bike for your needs! Even if you are looking for Bike for Courier Abu Dhabi, this post would help you.
The idea behind this blog post is that there are many different types of bikes available for people who do delivery work, but not all bikes are created equal. The person who wants to know which type of bike would be best or anyone interested in delivery scooters for sale Africa should read this blog post.
You will know what features are most important when choosing your first or next delivery bike.
Know Your Nature of Delivery Job
A reliable bike is your best friend when working as a bike delivery man. A good choice will last for years, so take the time to choose carefully. Do some brainstorming and list down your work requirements like whether you would be delivering food, gifts, files or whatever? The right bike is one that fits you well and suits your purpose.
Likewise, whether you would be riding it on surface roads, city streets or would need to go on trails as well. Thereby, firstly, you should be pretty much clear about the nature of your job.
Select something light and sturdy with enough gears to keep up on difficult streets. While this can work in some cases, there are a lot of factors to consider before making a purchase. To figure out your exact needs and what type of work the bike will be used for. This may sound rather trivial, but it plays an essential role in choosing the right model as well as some other things such as lock choice.
For Regular Purpose
If you are going to use the bike for regular commuting, something like a road or hybrid model might be more suitable. These are lighter and designed to keep up with longer distances on hilly terrain thanks to multiple gears.
For Multi-Purpose
If you want an all-purpose solution that is capable of delivery work as well as regular riding, consider choosing one of many cargo bikes out there. These are specifically designed for carrying stuff and usually have a more durable frame as well as larger wheels, which makes them far better suited to the task than regular bikes that can be easily knocked around or damaged on rough terrain.
For Multi-Delivery Business
If you plan on going into multi-delivery business then opt a multi-secure delivery box, it is crucial that your bike has some means of securing packages while riding. This may come in the form of a rear cargo rack with integrated lockable storage boxes or any other similar accessory out there. You should also invest in high quality locks such as U locks if you want extra peace of mind when making deliveries at night time.
While many bike thieves tend to carry bolt cutters these days, they will take much longer to deal with a lock using this tool, giving you extra time to react. One more thing worth mentioning here are frame mounts for attaching additional items like lights and reflectors.
Consider A Bike Having Heated Grips
A rider should always practice good habits when they are riding. Some of these include carrying the right tools, keeping your eyes up and staying focused on what is around them at all times. When it comes to choosing a bike for delivering packages or food, there are some additional options that will be needed in order to become successful with this job.
Thereby, your gloves should provide full coverage even if left glove is removed while operating throttle hand. Cooler needs to be large enough to accommodate lunch bag containing water bottle and snacks along with two extra helmets one which doubles as spare clothing option during inclement weather conditions.
Prefer One with a Padded Seat Cover
Choose padded seat cover over gel seat cover and get more comfort provided by added cushioning. Rider should pick bike with inverted forks for added stability in traffic. Likewise, keep extra set of tires and tubes. Spare key is a must have when you ride on the job. Place it in your pocket so if anything happens to ignition, one will be available as spare option without having to call someone for assistance.
Front Wheel with Hydraulic Disc Brake
A front wheel with a hydraulic disc brake will benefit you, especially if you are working on busy roads and need to stop quickly in an emergency. This braking system works better than traditional brakes so you can keep your hands free from carrying heavy loads of parcels or boxes!
Easily Accessible Parking Lights
The right bike for delivery work is not necessarily the one that can go fast or far. What matters most are practical features like easy-to-access switches on the handlebars to control lights, bells and other devices. When it comes to how to choose the right bike for deliveries, there are certain points of focus that make life easier during your day at work.
You should be able to control the parking light from your handlebars, allowing you to turn it off before getting on public transport or entering a crowded area. It will also come in handy when you are stuck behind trucks that block your view of traffic signals at intersections.
Final Words
As you can see, there are many considerations to make when buying a delivery bike. When it comes down to it though, the most important thing is that your decision will depend on what type of work you do and how often you need your bike for use. If you're still unsure which path to take or have any questions at all about delivery bikes now that we've covered them here, feel free to reach out. We'd love nothing more than to help people find the right delivery bikes.